Sharknado: The Video Game
is an "endless running" video game for iOS based on the 2014 film
Sharknado 2: The Second One
. It was developed by Other Ocean Interactive and published by Majesco.
Players control the actions of the main character Fin, who is running through various areas of shark-infested New York City. While he runs, players must weave Fin in and out of three different lanes while encountering various obstacles such as roadblocks, cars, and sharks. Fin can kill sharks with a variety of weapons and some levels require the player to kill a certain number of sharks before proceeding. Each level has three parts: a street running segment, a surfing segment, and a boss fight with a sharknado. During each level players can do things like purchase upgrades and extend their gameplay after death by using gold or chum, which is made available during gameplay or via microtransactions. After successfully completing a level players will be proceed to a new level with the same setting, but with an increased difficulty.[1]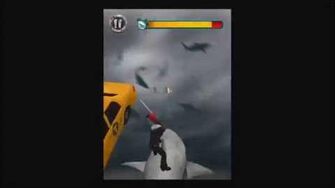 References
Edit
Ad blocker interference detected!
Wikia is a free-to-use site that makes money from advertising. We have a modified experience for viewers using ad blockers

Wikia is not accessible if you've made further modifications. Remove the custom ad blocker rule(s) and the page will load as expected.